In accepting this award, the following applies:
Post linking back to the person that gave you the award.

Share 7 random things about yourself.

Award 15 recently discovered bloggers

Drop them a note, and tell them about it!
Thank you, Miz Helen, for extending this lovely award to My Little Potted Garden. I'm really honoured that you enjoyed visiting my little tiny garden! Miz Helen is really charming, she has that motherly quality and can be seen as soon as you step into her site. She's a very talented cook, take a look at her scrumptious meals and wonderful desserts and treats, you would know what I mean. Miz Helen is a keen gardener too, she has a lovely garden which rewards her with home-grown veggies for her cooking pot! Please do visit
Miz Helen's Country Cottage
and read her posts on
The Garden Gate
. I especially love her post on The Garden Journal. Thank you, Miz Helen!
Seven things about myself !
I love spicy food, the spicier the yummier! I eat chili almost everyday, either in a spicy dish or as an accompaniment!

I failed miserably at growing my own chili plants! They never survived after the first flowers! Perhaps they saw a 'hungry chili eater' who is always "staring" at them, and that gave them a scare! But I'm still trying!

I have always been interested to grow my own herb plants, mainly to be used in my own cooking pot. I am planning to add on the varieties of herb plants that I have at the moment, this may take a while, but I'm not in a rush, will do it one at a time. Planning is the most important key factor to me. Got to do lots of reading up on these plants first.

I'm really frustrated at not being able to successfully grow my own tomatoes. Well, I did once, with only one fruit, that does not count at all! Still trying, I have a new batch of cherry tomatoes seedlings now, keeping my fingers crossed for this! Wish me luck! (I need lots of it!)

Love to visit all your gardens! Love to see all the veggies and blooms, some I have not seen before!

I'm still waiting for Book 4 on the Eragon series, though, by the time when they do publish it, I've got to start all over from Book 1! Memory is not as good as it used to be! Signs of getting old? Nah.......!
Wishing for a bigger garden with grounds!
I am honoured to extend this Stylish Blogger Award to these following fantastic blogs, at random order :
*****************************************
I would like to wish all my Chinese gardening pals, family and readers,
GONG XI FA CAI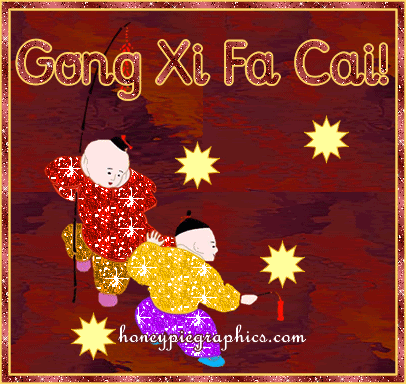 May this year of the RABBIT brings you good health, great happiness, wonderful love, joyful laughter, sweet contentment, lots, lots, lots of prosperity, and all the good things that life can offer!
Will be away for a week, see you when I get back!